Hip Hold
Lateral Patient Positioning Device
Positioning a patient properly on the operating table is critical for patient safety and comfort, surgeon and staff efficiency. The Hip Hold device facilitates this by providing a 2 point rigid fixation of the pelvis and keeping the patient stabilised in the lateral decubitus position throughout the surgical procedure. Hip Hold helps to :
Provide accurate and reproducible patient and implant oriention
Provide stability of patient position throughout the procedure
Keep the abdomen free from external pressure during the procedure
The exact positioning and orientation of the acetabular component versus a well stabilised pelvis, is key for short and long term stability of the hip. Advances in technologies, new materials, and biomechanics have made it increasingly important for the orthopaedic surgeon to be able to accurately orientate the implant components in a reproducible fashion.   Hip Hold is available in two versions:
HIP HOLD Variable angle (ex HIP FIX Mark 1)
HIP HOLD 90 (ex HIP FIX 2000)
Arc Wrist Tower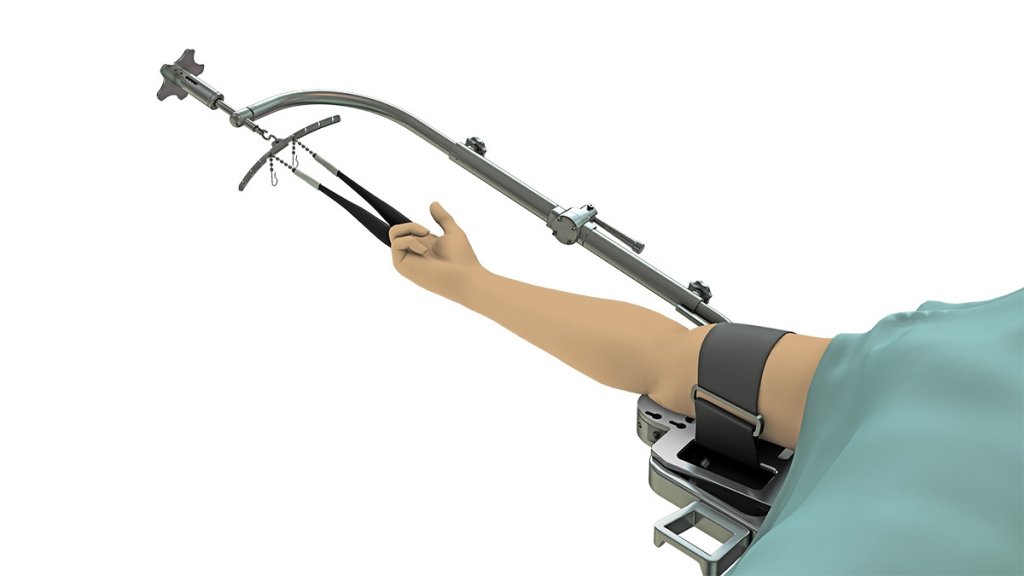 Distraction tower for treatment of soft tissue damage and wrist fractures.
Assets :
Stability
Versatility
Precision
Ergonomics
This distraction tower for wrist surgery will soon become an essential equipment for your operating theatre.  Its reliability and convenience make this tower the perfect ally of hand surgeons. Stable during traction, offering infinite positioning and approach, it increases precision and efficiency of the operating staff.
In vertical and horizontal positions, it increases visualization, identification by imaging, and treatment of distal radius, scaphoid and other hand and wrist fractures.
A perfect position control is ensured through the use of fingerstalls capable of transmitting 15kg of traction.
Its simple and quick fixation allows interventions directly on stretcher.

Wrist Tower Wrist – Brochure commerciale (1.2 MiB)