We design and manufacture according to your needs
With its design office and a network of experienced partners, ORTHORIGINAL can manufacture the product you are looking for :
Manufacturing of an innovative product directly from your specifications,
Modification of a standard product, to adjust it to the surgeon's technique and needs,
Identical manufacturing of a product that is no longer provided by the original manufacturer.
Our know-how includes all the different steps of our projects, from initial sketch to the final product bearing the CE-mark.
Exemple of project : design and manufacture of a custom-made lever, from the photos the customer provided.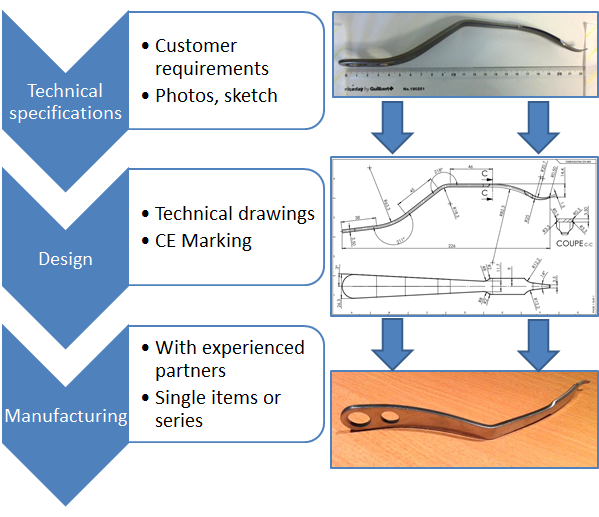 You cannot find the product you are looking for ? Contact us to discuss with us the realization of your project.
Insertion handle
Pin extraction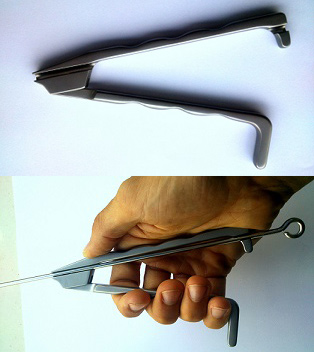 With the insertion/extraction handle designed by ORTHORIGINAL, you will not miss out a single more pin.
Based on a longue experience of trauma surgery, this pin insertion and extraction handle gives optimal ergonomy to theatre staff during use.
The implementation of osteosynthesys pins is now eased through the use of this innovating handle. The groove on the side of the instrument allows use with a single hand and a compatibility with a wide range of pins, even bended or twisted.
Can be used with pins from 2.0mm to 3.5mm diameter.
Operative table clamps
Part number for a pair of clamps : 0017 04 00
Allows the theatre staff to set up different devices around the operative table, such a patient positioning systems or trays for instruments.
They are for instance perfect for our hip positioning devices Hip Hold.
Our clamps are compatibles with all standard operative tables.