Arc Wrist Tower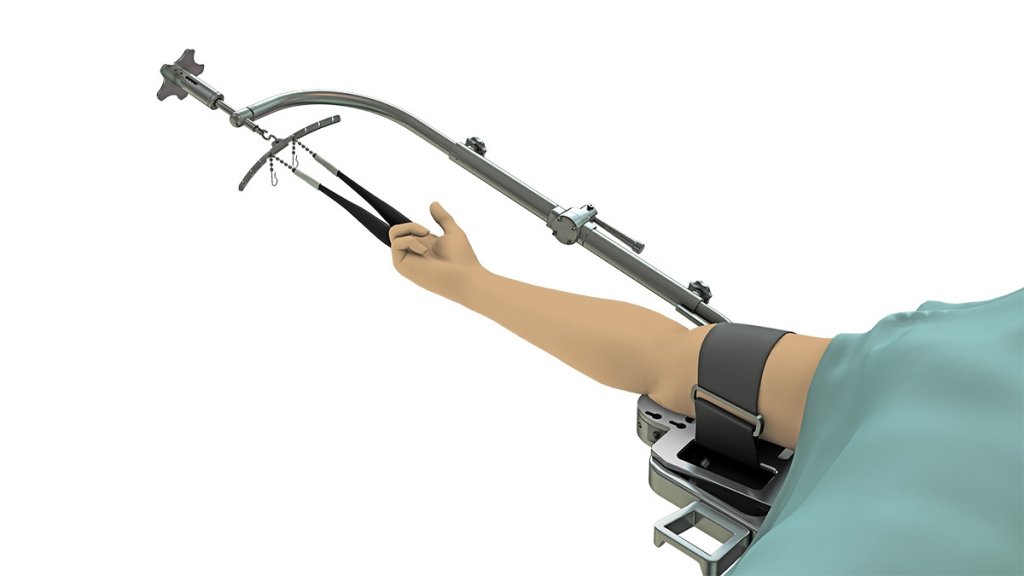 Distraction tower for treatment of soft tissue damage and wrist fractures.
Assets :
Stability
Versatility
Precision
Ergonomics
This distraction tower for wrist surgery will soon become an essential equipment for your operating theatre.  Its reliability and convenience make this tower the perfect ally of hand surgeons. Stable during traction, offering infinite positioning and approach, it increases precision and efficiency of the operating staff.
In vertical and horizontal positions, it increases visualization, identification by imaging, and treatment of distal radius, scaphoid and other hand and wrist fractures.
A perfect position control is ensured through the use of fingerstalls capable of transmitting 15kg of traction.
Its simple and quick fixation allows interventions directly on stretcher.

Wrist Tower Wrist – Brochure commerciale (1.2 MiB)
Lefèvre osteosynthesys pins
Anti-expulsion pin for fractures treatment
Pre-bended and drilled pins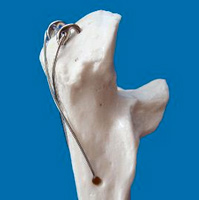 30% of patients that underwent surgery with the conventional  pins and wires show post-operative complications (migration of the pins, skin perforation …), making a second surgery necessary. Moreover, the volume of the osteosynthesis equipment makes the work of the surgeon harder and reduces the comfort of the patient.
Easy and quick to implement, the anti-expulsion Lefèvre pin allows expulsion risk reduction and guarantee the post-operative non-migration of the pins.
The anti-expulsion pin designed with Pr. Lefèvre shows a double advantage :
Per-operative, the pre-bended pin reduces breakage risks. Implemented with a specifically designed chuck holding the cane-shape, the wire being threaded into the hole, it makes the technique safer and quicker in dynamic osteosynthesis.
Post-operative, thanks to the cerclage wire, it ensure implant stability and definitively remove the expulsion risk and its results. Patient and surgeon gain in security and comfort.
Technical data
Pin length :
S size : 50 mm
M size : 80 mm
L size : 130 mm
Hook length :
S size : 8,5 mm
M size : 8 mm
L size : 9 mm
Hook diameter :
S size : Ø 6 mm
M size : Ø 5 mm
L size : Ø 4 mm
Hole diameter :
S size : Ø 1,3 mm
M size : Ø 1,6 mm
L size : Ø 1,9 mm
Pin diameter :
S size : Ø 1,5 mm
M size : Ø 2 mm
L size : Ø 2,5 mm
Recommended cerclage wire diameter :
S size : Ø 1,2 mm
M size : Ø 1,5 mm
L size : Ø 1,8 mm

Broches Lefevre – Technique opératoire (1.2 MiB)

Broches Lefevre – Présentation par le professeur C. Lefèvre (1.7 MiB)

Broches Lefevre – Brochure (101.8 KiB)