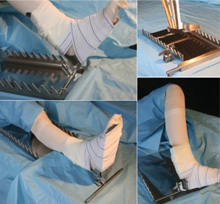 Knee Fix
Universal knee positioner :
Enables the leg to be held bent in the required position, and easily repositioned.
Enables side rotation of the foot.
Easy to assemble.
Does not need to be used with another leg positioner.
Easy and quick foot rotation.
Fully autoclavable, can be used in orthopaedic and ligamentoplasty.
Also recommended in mini invasive surgery : wide access to every parts of the knee enabled by the various flexion angles.

Knee Fix – Manuel d'utilisation (107.1 KiB)
Inclinix
Universal knee positioner :
Inclinix maintain the knee in position during the surgery in a quick and stable way .
Adjustable in height and inclinaison.
The lever allows a quick repositioning of the knee at the different steps of the surgery.
MCL Retractor – Unicondylar Knee
Protect the medial and lateral ligaments during knee arthroplasty.
Specifically designed to spread the lateral or medial ligaments during tibial resection and to help positioning the implants.
Especially indicated for mini-invasive surgery.
Helps access and approach during each phase of the surgery.
Convenient to use, for right and left sides.